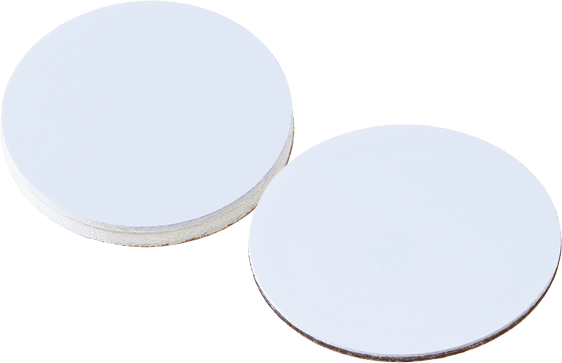 Metal tags are special RFID tags suitable for use in metallic environments.
In general, metal creates problems for the life of RFID applications, which is why we offer special metal tags that resolve this issue. Metal tags are customized products – special tests are carried out for each and every one of the applications specified by our customers, with regard to the environment, the size of the tag, reader antenna and specific chip technology. We offer our customers samples for initial testing.
Material: PVC, PETG, PC
Spacers: foam or ferrite
Standard diameters: 27, 30 and 50 mm
Possibility of an adhesive layer for easy attachment
Suitable for indoor and outdoor applications
Can be personalized by full colour printing
disc tag
foam or ferrite pad
self-adhesive foil

Available chip technologies
Manufacturer
125 kHz
13.56 MHz
EM Microelectronic
EM4102, EM4200, EM4305, EM4450
NXP
Hitag® 1, Hitag® 2, Hitag® S 256bit, Hitag® S 2048bit
MIFARE Ultralight® C, MIFARE Ultralight® EV1, MIFARE Classic® 1K EV1, MIFARE Classic® 4K EV1, MIFARE® DESFire® 256B EV1, MIFARE® DESFire® 2K EV1/EV2, MIFARE® DESFire® 4K EV1/EV2, MIFARE® DESFire® 8K EV1/EV2, MIFARE Plus® SE, MIFARE Plus® S 2K, MIFARE Plus® S 4K, MIFARE Plus® X 2K, MIFARE Plus® X 4K, MIFARE Plus® EV1 2K, MIFARE Plus® EV1 4K
I-Code® SLIX
NTAG213, NTAG215, NTAG216
SmartMX (JCOP)
Infineon
NRG SLE66R35 1K
Microchip – Atmel
ATA5575M1, ATA5575M2, ATA5577, Q5
Legic®
Prime: MIM256, MIM1024
Advant: ATC256-MV410, ATC1024-MV110, ATC1024-MV010, ATC4096-MP311
CTC 4096-MP410, CTC 4096-MM410
Silicon Craft
SIC7999 (HDX)
Other ICs are available upon request.